Dit artikel beschrijft hoe Hosted Exchange geconfigureerd kan worden voor Windows 8 Mail.
Stap 1 – Open Mail.
Stap 2 – (Touchscreen) Veeg vanaf de rechterrand van het scherm naar links en tik op Instellingen.
                 (Muis) Plaats de muis in de rechterbenedenhoek van het scherm en klik op Instellingen.
Stap 3 – Tik of klik op Accounts.
Stap 4 – Tik of klik op Voeg een account toe.
Stap 5 – Tik of klik op Exchange.
Stap 6 – Vul uw Exchange gegevens in: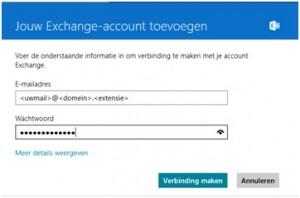 Stap 7 – Tik of klik op Verbinding maken.
Uw account is nu gereed voor gebruik. U kunt deze links onder in het scherm terug vinden.